Body Love - 5 tips naar MEER body love. Het is belangrijk om vandaag van je lichaam te houden ... en daarom gezonde keuzes te maken.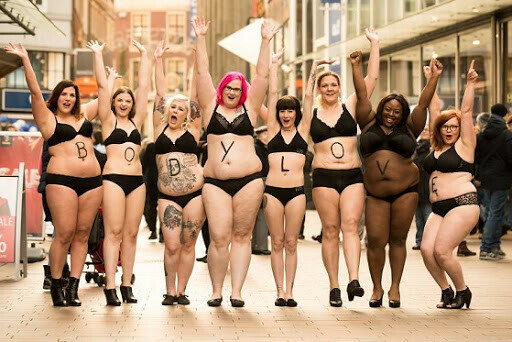 1. BODY LOVE #1 Erken dat "we allemaal in verschillende vormen en maten komen"

Sommigen willen krampachtig hun gewicht beheersen, maar kan dat wel? Moet dat wel? Kan je op dezelfde manier je lengte beheersen? Waardeer dat je uniek bent.

2.
BODY LOVE #2
Wij zijn onze gedachte!
Praat op lieve, vriendelijke manier tegen jezelf
Volgens recente studies is 70 % van onze dagelijkse conversaties met ons zelf negatief. Probeer je hier bewust van te zijn. Luister naar jezelf alsof je een vreemde afluistert. Bedenk of je deze dingen tegen een vriendin zou zeggen? Is het antwoord nee, zeg ze dan ook niet tegen jezelf. Laat die negativiteit niet toe en vervang ze door positievere gedachte.

3.
BODY LOVE #3
Schakel van angst naar dankbaarheid
Het is gemakkelijk om verstrikt te raken in wat we niet leuk vinden aan onszelf. Deze negatieve gedachte zijn gebaseerd op angst: bang dat anderen ons niet leuk vinden. Vrees dat we niet geliefd of onwaardig zijn. Dus verander die angst in dankbaarheid! Zing en dans op het nummer van Janet Jackson song "What have you done for me lately?" De antwoorden zullen zo in je gedachte opborrelen. Op het moment dat je erkent dat je lichaam allemaal wonderbaarlijke dingen voor JOU DOET, zal je er vriendelijk tegen willen spreken.

4.
BODY LOVE #4
Zet gezondheid gerelateerde doelen ipv fitness gerelateerde fitnessdoelen
Fitnessdoelen hebben is geweldig, maar de motivatie achter die doelen kan een enorm verschil maken. Bedenk de ''WAAROM'' achter je doel. Wil je meer energie? Wil je een langer leven leiden? Wil je je uithoudingsvermogen verhogen?
Je maakt gezonde keuzes omdat je van je lichaam houdt en het waard bent om het te eren met acties die je doelen ondersteunen.

5.
BODY LOVE #5
Leef nu het leven dat je wilt
Zo vaak stellen mensen de geweldige ervaringen van het leven uit totdat ze hun streefgewicht bereiken. Er is geen enkele reden om te wachten tot je een bepaalde maat hebt om de dingen te doen die je wilt. Wat er ook gebeurt, laat het leven niet aan je voorbijgaan. Het leven gebeurt op dit moment; erken en hou genoeg van je lichaam om het te beleven!


BODY LOVE - laten we samen aan die onzekerheid werken!